Hello!! And welcome to our  home on the web. Please take your time and browse, you will find all that you will need to learn more about our family. Check out our online store to find the latest Bates Family recordings, as well as the tour schedule to see when we will be in your city. Please don't forget to sign up for our FREE newsletter, there is a special gift to be sent to you when you do. Thanks so much for stopping by!!! Enjoy...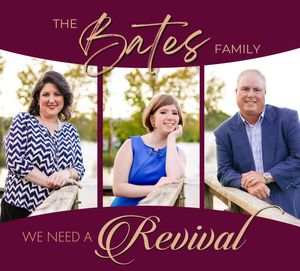 We would like to thank everyone who has supported this ministry over the last three decades. From every radio station, concert promoter, pastor, music directors and event coordinators. And to everyone who comes to see us when we are in your hometowns....WE LOVE YOU!!
Please visit our store and pick up our latest release "We Need A Revival" 
You are visitor number: 361163